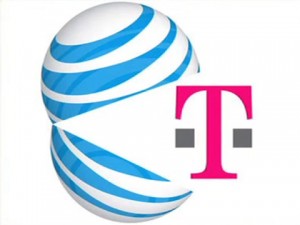 AT&T's nine-month quest to acquire T-Mobile USA from its German parent company, Deutsche Telekom AG, ended with an official announcement from the American telecom and technology giant on Monday, December 19.  The two telcos announced a merger plan in March that would have resulted in AT&T becoming the largest wireless company in the United States, ahead of the current number-one, Verizon.
The deal was opposed by the U.S. Justice Department, the Federal Communications Commission and several state attorneys general, as well as by AT&T's competitors in the wireless telecom market, most notably Sprint.  The Justice Department filed a suit in August to block the merger on anti-competitive grounds, and the FCC followed with a finding that it would be contrary to consumer interests.  Sprint filed a separate lawsuit of its own.
On its website, AT&T said it had ended its acquisition bid for T-Mobile in agreement with Deutsche Telekom "after a thorough review of options." However, AT&T is contractually obligated to pay a $4 billion breakup fee to Deutsche Telekom. In an earlier sign to many telecom consultants and analysts then that the deal was in serious trouble, AT&T took an accounting charge to cover the breakup fee three weeks ago. The merger would have been worth an estimated $39 billion.
AT&T had said that it needed to acquire T-Mobile in order to avert a crisis in the amount of available wireless spectrum in the United States, especially as it and other wireless carriers expand services and deploy 4G capabilities. "The AT&T and T-Mobile USA combination would have offered an interim solution to this spectrum shortage," AT&T said in a press release on its website. "In the absence of such steps, customers will be harmed and needed investment will be stifled." In the wake of the failed deal, AT&T called for expedited approval by the FCC of its pending purchase of unused spectrum owned by Qualcomm. AT&T also said it will enter into a "mutually beneficial" roaming agreement with Deutsche Telekom.
Critics have said that in attempting to snap up T-Mobile, AT&T was simply trying to eliminate an agile competitor that could undercut it on price for some wireless services and equipment. They pointed to documents released to the FCC by AT&T itself that suggested that AT&T's spectrum problems are of its own making and could be eased simply through better management of telecom services it currently offers.
T-Mobile is the country's fourth-largest wireless provider, but Deutsche Telekom had been looking to unload it for some time because of worrisome sales trends, especially following the release of the latest iPhones.
With the ongoing changes in the wireless market and in the world of telecommunications generally, you need an expert telecom billing consultant to help you find the best deals for your organization. Telanalysis can perform a thorough phone bill audit for your company at no risk and with no upfront cost, and we offer comprehensive phone bill management services to insure that you're making the most of your telecom dollars. Call us for a free consultation at 866-300-6999.